History
"Where life in the present honors the past."
The Bragg Family has been producing Pure Vermont Maple Syrup at the Bragg Farm Sugarhouse for 8 generations!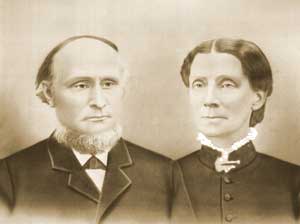 Voices from the Past
A recently discovered collection of old family letters is causing quite a buzz at Bragg Farm here in East Montpelier. These letters were written between 1858 - 1914 by our great, great grandmother, Anna Bixby Bragg. The letters are now preserved at the Vermont Historical Society in Barre, VT.
These letters were written to relatives in the west depicting farm life on the Bragg Farm in Fayston, Vermont, owned by Anna and her husband, Azro.
This was a truly diversified farm! Azro, who was born in 1834, took over the farm as a young lad when his father, William, became ill. Azro and Anna, who married in 1855, greatly expanded the farm so that by the 1880's it featured 40 milking cows, crops of strawberries and raspberries, a 500-bushel potatoes field, a large apple orchard and an excellent grove of over 2,000 sugar maples.
One interesting story of the Early Bragg Farm is that the Braggs" exported" large quantities of maple syrup to contacts in the western states where there was a large demand for maple. It is instructive and humbling to realize that the problems and perils and rewards of life on a Vermont farm are in many ways the same today as they were for our ancestors.
A letter from May 1865 – "March was warmer than April this year, spoiling our sugar season. We didn't make enough to fill half our orders."
A Letter from March 26th, 1909 – "We had a nice warm day on the 24th and some farmers got out their tubs and tapped the trees. Then yesterday was one of the worst of the winter. "It "snews and blewed" furiously all day. - 12 inches of snow. Hurrah for old Vermont! Today is warm again and the maple sap is running."
A letter from April 20th, 1908 – "We have made the most maple goods, both sugar and syrup, for a long time, over 400 gallons. It is still cold and there will be more sap."
We still depend on the weather, hard work and the whims of nature for our success or failure, particularly for our beloved maple syrup production. When we all gathered this year in the sugar house on March 20th, 2007 and talked about the great run of sap that day or to complain about the deep snow or the weather having been too warm, we may have been using the very same words that were spoken on March 20th, 1906. It is good to think of these things, whether you live in Vermont or are here on a visit. As we enjoy the scenery, the old farms, the covered bridges, and excellent Vermont products it is important to know that our passion for all these things comes from those who were here long ago. Vermont is a place where our lives in the present honor the past.
Written by Doug Bragg, owner, and sugarmaker of The Bragg Farm Sugarhouse and Gift Shop for a Vermont Travel Magazine.